Hello!
March has been a month of new titles for me, and by far the most exciting is the one not yet released: all of the good vibes I've funneled into the void have paid off, and my absolute favorite writer, Kelly Thompson, will be making Nancy Drew! This is absolutely the comic of my dreams and I cannot imagine a better team–Jenn St-Onge, whose work on Jem & The Misfits is absolutely awesome, will be doing the art! I get a little misty-eyed when I think about this project for more than a moment; I grew up obsessed with Nancy, and while I am absolutely more of a George and recognize that about myself now, I spent a great deal of time dreaming of one day owning a blue 60's Mustang convertible (a dream I've yet to give up!). I will probably cry when I see this in print, and the grouchy Newbury Comics guy who already finds my enthusiasm annoying will undoubtedly have fodder for life.
Anyway! Onward!
Shiny and New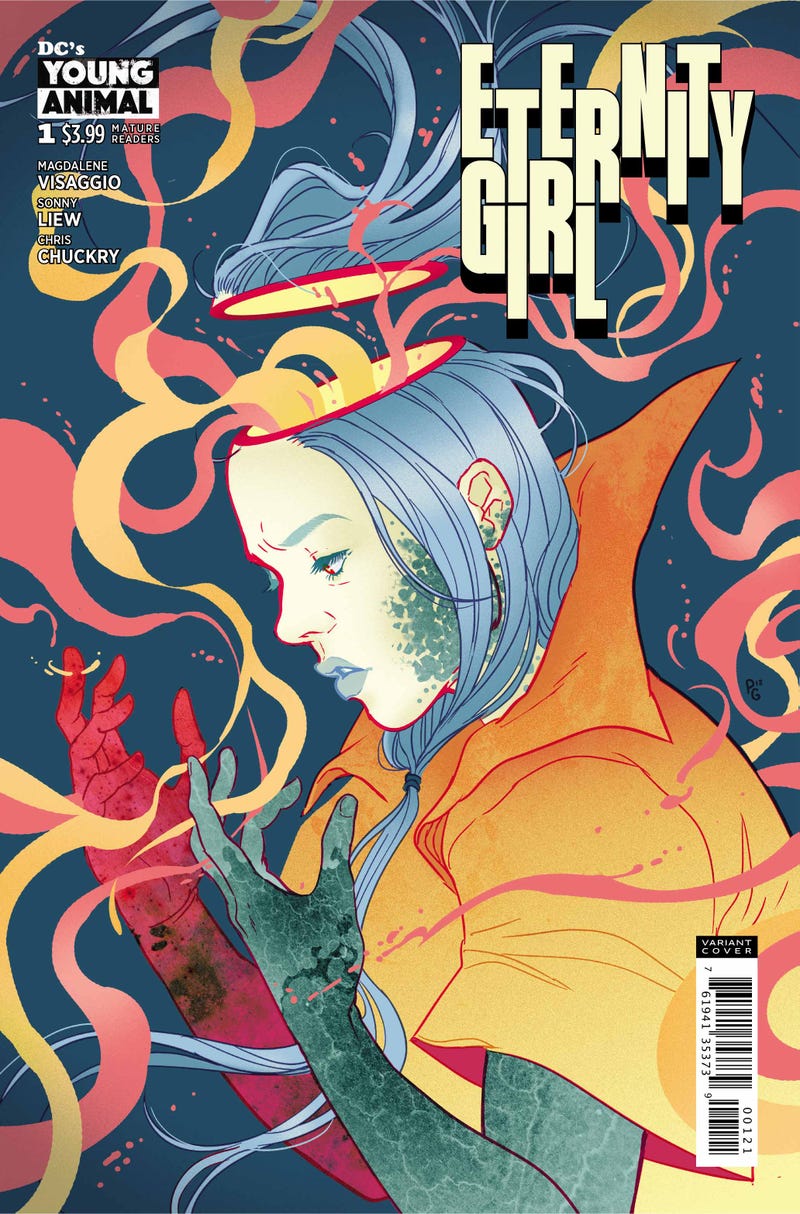 We lost power because of the big storm from Tuesday afternoon until Wednesday night, so we accidentally found ourselves wandering the mall on New Comic Book Day. I hovered by the "New" display at the comic book store for longer than I really should have, but I scored the last copy of Eternity Girl #1, so it was totally worth it. Though I've been meaning to, I hadn't yet read a title from Young Animal, and this felt like a great introduction. This book does a great job with themes of alienation and trauma and I can't wait to see what's next.
Sillier but still wonderful: The Backstagers vol. 2 and Vampironica #1, the latter of which I scored along with Eternity Girl. It's a very quick read, but I absolutely cannot wait for more. I'm totally obsessed with the entire Archie Horror imprint; there's something completely and totally wonderful about a new generation of creators taking these classic characters from my childhood and just having loads of fun with them. I talk more about this later in the post! The Backstagers is a series I like very much but also find a little conceptually weak. I will keep reading, but I would love less focus on the mystical plot elements and more on characterization.
Standalones
Finally, after months and months of good intentions, I read my first Squirrel Girl title, The Unbeatable Squirrel Girl Beats Up The Marvel Universe! I loved this book very much, and it's a great one even if you don't know anything about Squirrel Girl. Unlike other supposedly "standalone" superhero titles that require a lot of background knowledge, this  one really does meet you wherever you are. I also read My Favorite Thing is Monsters by Emil Ferris, the book that took over the cultural conversation around graphic narratives last year. It's a gorgeous, meticulous book, but of course it's extremely heavy and I wouldn't recommend it to everyone for that reason. I though it was completely gorgeous, though.
Friends New and Old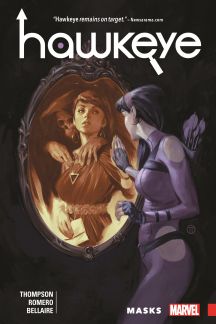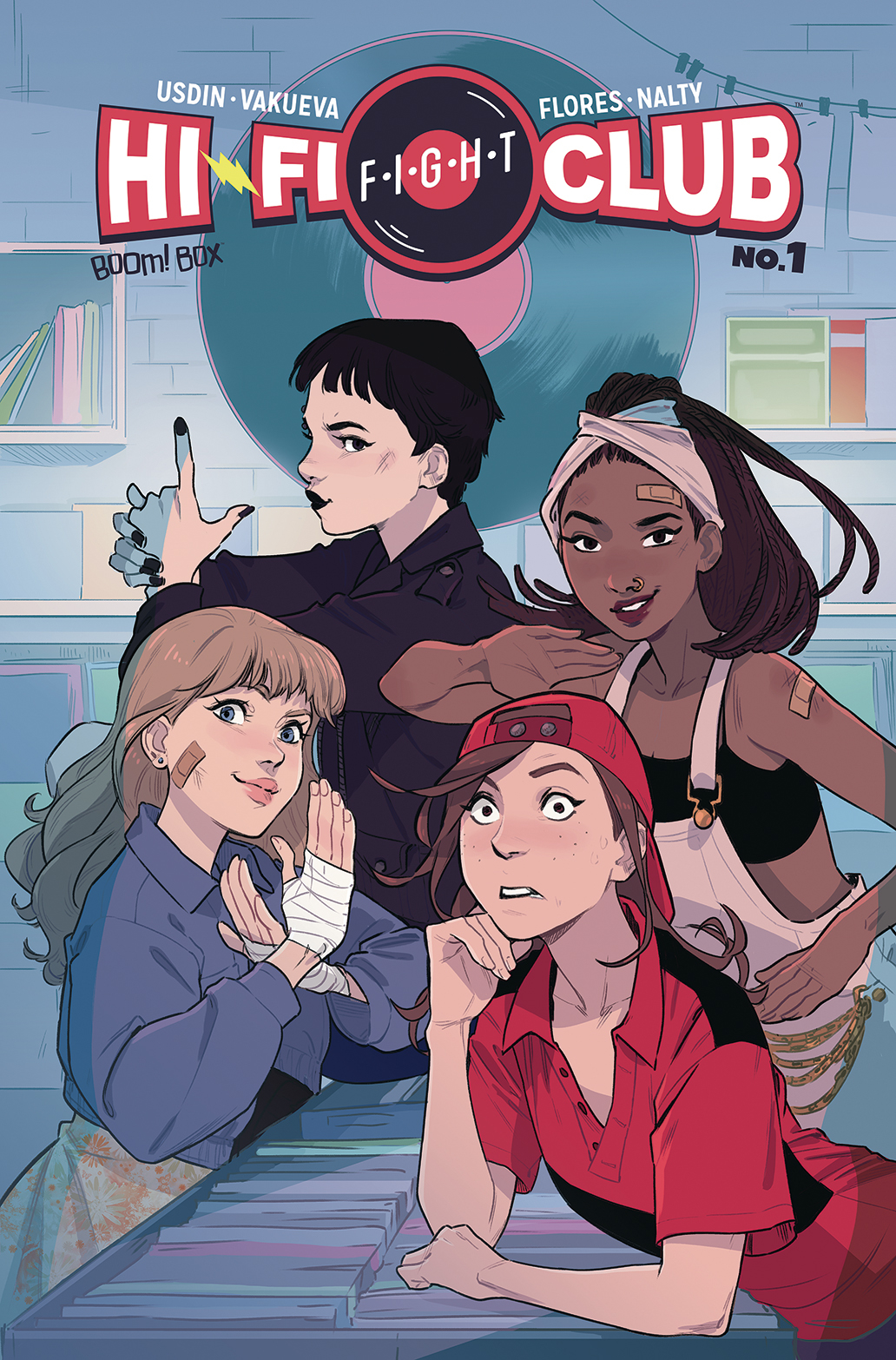 I have been moving very slowly through Kelly Thompson's Hawkeye run and have only just read Hawkeye vol. 2. As predicted, I am still an enormous fan of Kate Bishop and especially loved the moments with Laura and Gabby from All-New Wolverine, a series I definitely want to read (and which I am sad to see end). I am so enamored with Thompson's Hawkeye; I have read a lot of superhero comics that made me feel alienated, but this Hawkeye run was never like that.  Hi-Fi Fight Club #1 (recently renamed Heavy Vinyl) is a perfectly simple, gloriously fun ode to 90's girl culture, and I can't wait to read the full arc. This is one I'd absolutely recommend to middle and high school readers. I found Spider-Gwen #1 underwhelming, mostly because it's one of those aforementioned superhero stories that requires a lot of setup from previous issues, but I am a big Gwen Stacy fan and may give it another shot.
Finally, a huge shoutout to one of my new creative heroes, Roberto Aguirre-Sacasa, whose vision for the Archieverse continues to shine. His Chilling Adventures of Sabrina is one of the best books I've read this year. Robert Hack's illustrations perfectly harken back to creepy Dick and Jane-style children's book art from the 50's and 60's. Unlike Vampironica, which is pure fun, Sabrina is deceptively complex, and it doesn't poke fun at its source material so much as enhance it. I could talk about this book forever. I'm in love.
That's all for this week! More in a few!