Hello, and welcome to my first-ever roundup of all the comics and graphic novels I've been reading this month.
I know it's only January 15th, but I was so excited to start reading comics that I've read 15 different titles already. One a day! I'm going to try to break them up into some semblance of categories in order to write about them, so here goes (sorry about the probably formatting issues in advance):
The Heroes
As someone who's read very few comics, I wanted to make sure i got a little bit of everything during my first pass. I'd started Runaways when the TV show came out, so I was already 3 volumes in. I read vol. 4, which came two years after the end of vol. 3 and marks a pretty distinct departure from the original run. I actually think the new direction works well, and I'm excited to finish it and read the new Rainbow Rowell reboot. That's hopefully a goal for February!
I also decided to try Young Avengers for a similar-but-different type of reading experience. I found that one to be a little to enmeshed in the world of Marvel, so I didn't like it nearly as much. My favorites, however, were definitely the first issue of Mighty Morphin' Power Rangers: Pink and Hawkeye vol. 1,  which I read because I've become a big fan of Kelly Thompson on Twitter and wanted to read some of her stuff. Thus far, she might be my favorite creator in the industry, right up there with Sarah Stern, the colorist MMPR:P. Together, they made me realize that superhero comics can be flashy, silly, feminist fun without leaning too heavily on dark, muddy colors and brooding, "damaged" heroines. I think I might only want to read about badass heroes named Kim for the rest of time. Can we make that happen?
The Regular Kids
The first thing I read when I began this comics challenge was my beloved hardcover Lumberjanes: To the Max Edition vol. 1. I'm ashamed to say it, but I've had this book for over a year and didn't get around to reading it until this month. The kids at work love it–I can barely keep it on the shelves–and I've loved the work of all of the creators involved, but I just never got around to it. Boy, thank goodness I finally made time! This book is lovely and fills my heart with joy and makes me so excited for all the kids who get to grow up with it. I'm so glad to live in a world where Lumberjanes exists. The same goes for the other camping book I read, As the Crow Flies by Melanie Gillman. This was an awesome and under-appreciated story of a queer Black camper coming to terms with her faith and her identity at a Christian summer camp. Definitely recommended on the strength of the story alone, but the art is also totally lovely and certainly enhances the writing.
I don't have much to say about Giant Days vol. 2 except that I think I liked vol. 1 better, but I'll certainly keep reading it and I'm certain I will keep enjoying it. Archie vol. 1 I totally loved, and not just because I've gotten into Riverdale recently. I've been a huge fan of the Archie comics since I was a little kid begging my mom for the latest Betty & Veronica in line at the grocery store. I think the reboot brings a necessary update without diminishing the joy of the original material. Archie & co. feel real without being dragged down by reality, if that makes sense. I was surprised by how much I liked it!
The Misfits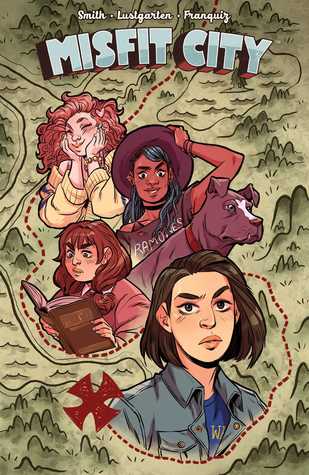 This category is called Misfits mainly because I couldn't figure out where else they might all go, but I guess it also describes the characters in a lot of ways. Misfit City vol. 1, most obviously, fits into that category, given that it's about a bunch of girls getting into trouble and annoying their neighbors looking for treasure and intrigue. I really loved that one, and I can't wait for more issues. Similarly, Goldie Vance vol. 1 totally blew me away, which was partly because I started it without any idea what it was about. It's always lovely to open a mysterious new book and have lots of cool lady characters, LGBT+ representation, and an interesting mystery. Welcome Back vol. 1 had all of that, too, but I found it a lot less compelling, probably because the frantic pace and constantly changing perspective made reading more of a chore than a joy. It was violent, too, which was not a strike against it exactly, but certainly felt jarring after reading so many feel-good BOOM! Studios titles in a row. My mistake, I guess! I think I'll keep reading this one, even though it did trip me up a bit. Never a bad thing to stay on one's toes! House of Women was another dark, confusing one, but I liked it because it was genuinely very creepy in a beautiful, stark sort of way. I definitely didn't understand it, but that was O.K. with me.
The Kid Stuff
As a children's librarian, I naturally read a lot of books for kids. Some are certainly better than others, and graphic novels are no different. Baba Yaga's Assistant certainly falls on the Good side for me. The story was lovely and simple, but the incredible art by Emily Carroll brought a level of terror and suspense to the page that I don't think anyone else could pull off in a children's book. Her work leaves me spellbound every time. Can Emily Carroll, Kelly Thompson, and Sarah Stern become a super-team and make something together, please? I would honestly sell my soul for that.
Unfortunately, Mighty Jack and The Witch Boy left me dissatisfied, albeit for different reasons. Mighty Jack muddles through a broad interpretation of Jack and the Beanstalk with a cast of unlikeable, super-white characters. While the inclusion of a main character with autism was great, it didn't make up for the bland negativity that radiated throughout the rest of the text. My main thought while reading was "We can do better than this for kids." The Witch Boy, while diverse in its casting and creative in its worldbuilding, relied on too many tired tropes about gender for me. I know that was the point of it in a lot of ways, but the story felt tired and overwrought. It felt very much like Molly Ostertag was having an argument with a straw man about gender for 100 pages. Her work is beautiful, and I'm looking forward to seeing more of it in the future. This one just didn't do it for me.
Wow, I don't like ending on a negative note, so here are some goals for the rest of the month!
I very much want to read the new Black Panther series, or at least the first volume, before the movie comes out in February.
I'd also like to finish  Runaways (though I'm trying not to rush through it) and catch up to the current issue of Lumberjanes, Hawkeye, and Archie.
I want to start some new series, mainly Spider-Gwen, Motor Crush, and Heavy Vinyl.
I also have some stand-alone books I want to read, like 4 Kids Walk Into a Bank, Spinning, and the print edition of Strong Female Protagonist.